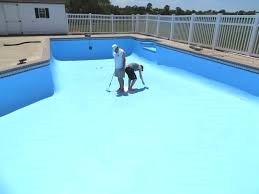 You may have heard people talking about chlorinated rubber paint and wondered where and how it is used. Chlorinated rubber paint actually has a whole range of uses because of its water repellency, flexibility, durability, chemical resistance and anti-mould qualities. It is used frequently in agricultural, industrial and leisure sectors where surfaces are exposed to chemicals, urine, sewage and more! While it's been used for swimming pools for many years, it is now a popular choice for domestic ornamental ponds, poolside areas and animal housing.  It is also re-coatable, a great advantage if you fancy a change of colour.  So why use chlorinated rubber paint? Here are four reasons why our customers say they use it:
1. Protection 
Carbonated rubber paint is widely used in situations where a surface is exposed to the elements because of its strong heat and water resistant properties. You'll often find it on road line marking, manhole covers, swimming pools and animal pens. It is also a good choice in coastal areas where saltwater exposure can cause corrosion to steel/steel reinforced concrete and in factories where surfaces are susceptible to chemical damage.
2. Hygiene
Hygiene is a primary factor in the use of chlorinated rubber paint. It is the ideal coating in areas where hygiene is crucial because of its resistance to such a wide range of substances including chemicals (acids/alkalis, oxidising agents, moist gases, mineral oil) sewage, fungus, urine and mould. Areas painted with chlorinated rubber paint are also easy to hose or jet wash so regular cleaning is a simple, stress-free job. We supply a lot of our own chlorinated rubber paint, Carbochlor, to the agricultural sector for areas like milking parlours and livestock areas.
3. Appearance
Areas painted with chlorinated rubber paint can be kept clean easily and it is popular choice when frequent cleaning is necessary but where appearance is also important. Here at Palatine Paints we supply our chlorinated rubber paint, Carbochlor, in a wide range of colours from the RAL Classic and BS 4800/ BS381C colour charts. It's therefore both a practical and an attractive coating. Just a few examples of where our customers use Carbochlor in places where visual appeal is important, include: swimming pools/poolside surfaces; ornamental ponds; kennels; stables; concrete septic tanks; laundry rooms, dairy parlours and livestock areas.
4. Versatility
Highly versatile, chlorinated rubber paint can be applied to an extensive range of surface types including: brickwork; concrete; steel; tarmac and wood negating the need to switch paints to cover different materials.
Handy tips when using chlorinated rubber paint
Chlorinated rubber paint has a strong smell which takes a while to disperse especially when applied indoors. If you are applying indoors, the area MUST be well ventilated, use a suitable mask or respirator when applying. Wear gloves and chemical splash eye protection
Using the wrong swimming pool and pond treatments can alter the chemical balance of the water and cause the paint to rub off. Always check the labels on cleaning products and water treatments
Prepare properly – if the surface is not clean, the paint may blister or bubble. Remove all grease, grime and dirt then and fill any cracks or holes. Sweep out any leaves/bits of dust that may have blown in after cleaning/ before painting
Avoid applying in very hot or cold temperatures – if applied in extreme temperatures the paint might blister so only apply at optimum temperature, between 10ºC and 25ºC
Ensure surface is dry – the paint will not adhere effectively unless the surface is completely dry. This also applies between coats – so if it rains, make sure the paint cures before applying a subsequent coat
Use a minimum of two coats
If coating a pool or pond, leave for at least 7 days to dry before filling with water
Application –  apply with a brush or a solvent resistant roller
Finally, if you want to try this paint or ask a question…
Palatine Paints' Carbochlor chlorinated rubber paint is available in 2.5L and 5L and in colours from the RAL Classic and BS 4800/ BS381C charts. Take a look at our product information here for more details, or talk to us via our online chat, email or phone.